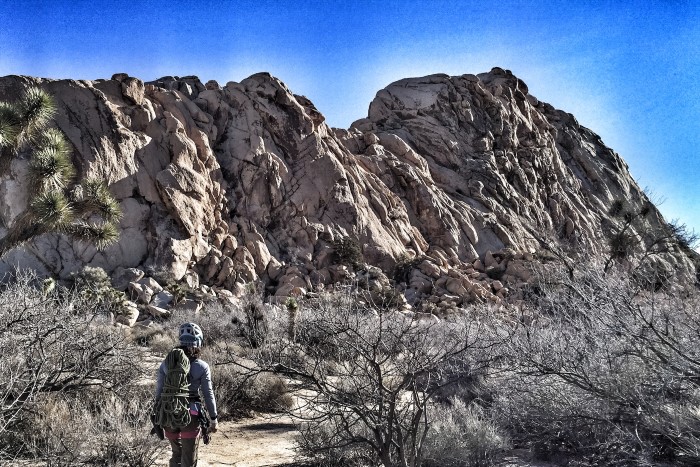 Lost Horse Wall is exposed to the sun all day during the winter months and it houses some of the longest routes in the park. Joshua Tree can get very cold during the winter months. Cold weather forces climbers to look for formations like this, so they can enjoy rock climbing and still be able to feel their fingers. There are three great classic climbs on this formation. If you haven't climbed them yet, we recommend you check them off your tick list.
Lost Horse Wall in Lost Horse Road Area
The Swift 5.7 350 ft. multi-pitch trad route. It can be done in three pitches, from which the last two are about 150 ft. long. The climbing is fairly easy and there is great protection all the way up. First Ascent was made by Bob Dominick and John Wolfe in 1976.
Bird on a Wire 5.10a 330 ft. multi-pitch trad route. Can also be done in three pitches with the second pitch being the best. First Ascent was made by Dave Evans, Kevin Powell and Dan Ahlborn in 1977.
Dappled Mare 5.8 350 ft. multi-pitch trad route with a set of bolted anchors at the end of pitch two. The second pitch starts off with a traverse that goes left and down a horizontal crack, making the last pitch more interesting and challenging than the rest. First Ascent was made by John Long, Richard Harrison, and Rick Accomazzo in 1973.
Do plan ahead and arrive early. These three great routes usually see a lot of traffic and often have parties in line waiting to go up. Once you reach the top, walk right. The walk-off is quite long, it requires some scrambling and steep downclimbing. Bring plenty of water and trail your approach shoes to the summit, your feet will thank you.