Discover Outdoor Rock Climbing Guided Adventures
Get ready to "rock your socks off", discover new and fun outdoor activities with us. Find your secret strengths thru rock climbing. Defy physics walking up-and-down vertical walls while you rappel, or plan your next group event with us.
Visitors from all over the world are sharing their amazing climbing experiences, while learning tips and tricks used by professionals. Find out how we make outdoor rock climbing easy and fun.
With over 8,000 routes to choose from, your next challenge will soon be a "mission accomplished". Simply the best outdoor activities in Southern California and Joshua Tree National Park.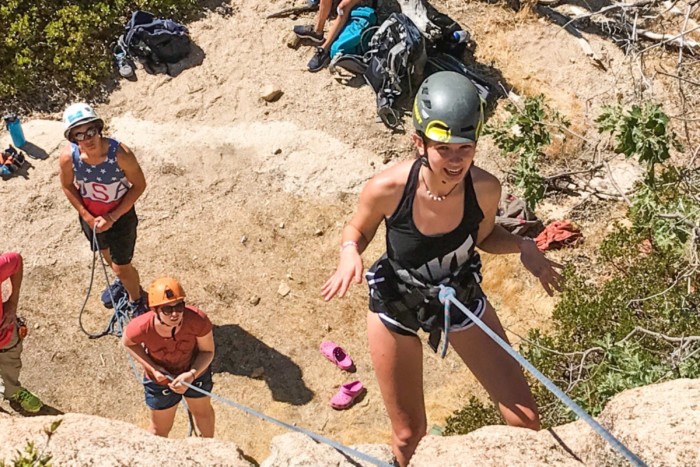 Multiple Locations Across Southern California!
Joshua Tree, Los Angeles, Riverside, Apple Valley, Big Bear and more
Featured as one of LA's best health, fitness and active life by VoyageLA Magazine!
Best outdoor adventures, rock climbing classes and private instruction for you in Southern California.
Great fun activities and climbing classes for everyone! Learn how to rock climb, use a carabiner, manage a climbing rope, top-rope or lead climbing outdoors. Ascend a rock, scramble up, then back down – step by step, rise to the summit. Learn how to build solid rock climbing anchors, how to belay a climber, how to rappel, equipment used for climbing and most importantly – safety.
⭐⭐⭐⭐⭐ 5 Star Reviews
2017 Excellence Certificate Winner - Best Rock Climbing Classes, Rappelling, Guided Adventures in California
People Love Us on Yelp and  TripAdvisor
The Outdoor Program That Fits You!
"Our commitment to you goes far beyond the class by providing a Lifetime-Membership to exclusive outdoor climbing events, which allow students more free time to practice skills learned and make new friends. Because we are more than an outdoor rock climbing school, we are a community." – Owner
    Certified Instructors
    All Rental Equipment Included
    Check & Register Online 24*7
    Small Client-to-Guide Ratios
    Beginner, Intermediate, Advance
    Climbing, Rappelling, Self-Rescue
    Private Rock Climbing Instruction
    Family Climbing Packages
    Group & Team Building Events
    Multi-Day Climbing Packages
    Outdoor Rock Climbing School with the largest selection of locations
    Industry leader of outdoor activities and climbing tours
Rock Climb Every Day offers outdoor trips are fun and empowering to; climbers, non-climbers, groups and families. Great guides and exclusive locations give you the perfect combination of tools needed to succeed.
All our guides have gone through extensive training, years of outdoor experience and hold the appropriate mountain guiding certifications needed to be an expert out on the field. Our Joshua Tree rock climbing guides do an excellent job, since they have the biggest and Southern California's mecca or world-class rock climbing mountains available. They team up with our rock climbing guides in Los Angeles and the Inland Empire to climb Joshua Tree National Park quite often. You can truly get motivated when you see them sending routes on their days off. Their professionalism and skills set them aside, and their inspiration grows as they share their knowledge with outdoor fans like you. Because a certified mountain guide is what makes the real difference; never settle for less.
To maximize your experience, we are open year round and offer a great variety of services, such as; rappelling, private climbing instruction, beginner rock climbing classes, anchor building classes, sport and trad lead courses, multi-pitch, climbing self-rescue, women-only classes, guided adventure tours, group climbing, team building events, family packages, multi-day events, gift cards and fundraising opportunities.
Rock Climb Every Day is proud to service Los Angeles, California area and world-class outdoor climbing destination – Joshua Tree National Park.