Our crew here, at Rock Climb Every Day, is very friendly and welcoming to beginners.  We love to climbing outdoors, but sometimes (if weather conditions are not optimal for climbing) we get together at several indoor gyms. This week we are getting together at Sender One Climbing in Santa Ana, CA and Top Out Climbing Gym in Santa Clarita, CA.
We are going to work out at Sender One today 8/20/2014! After 6pm. So come meet some of our rock climbing instructors and start becoming a part of the climbing community.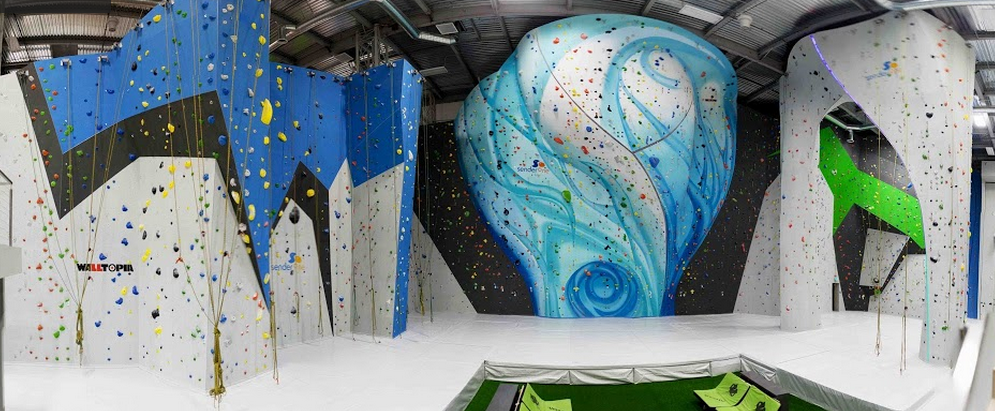 Tie-in and belay test required to get on ropes.
Bring your own rope if you are planning on leading, also requires passing a test if your first visit.
If you've never been to Sender One, here's a few tips to get you started:
Fill out their **Online Waiver ** before arrival for faster check in at the front desk.
Get belay certified if you've climbed on ropes before. – Takes roughly 10 minutes by a Sender One instructor: Tie-in, safety checks, belay techniques, and communication call outs.
Admission is $20 for an all day adult pass. $6 gear package rental (Shoes, Harness, & Chalk Bag) available if you don't have your own stuff.
Next week, 8/27/2014 we are working out at Top Out Climbing Gym. Also after 6pm. Another great opportunity to meet our rock climbing instructors, mingle and meet new people.
They offer two types of climbing:
Auto-Belay 
An auto belay is an automated braking system that eliminates the need for human belayers (CLIP AND GO!). Our auto belay area is a less intimidating area that is perfect for kids and the beginning climber while still appealing to experienced climbers. Participants can climb without a partner and enjoy the thrill of climbing up to the ceiling on their very first visit.
Bouldering 
Our bouldering area is the heart and soul of the gym and is a sight to behold. Featuring a 100 foot long steep wall, a 20 foot high top out wall, and a 15 foot high freestanding boulder, our bouldering terrain has something to offer for anyone. All of our bouldering zones feature thick custom fit foam landing areas for superior safety and protection.
At Top Out, they are passionate about rock climbing. Their climbing routes and boulder problems are set by some of the best route setters in the world and offers some of the most diverse and exciting indoor rock climbing terrain in the nation. Their walls will challenge beginners and advanced climbers mentally and physically, and will leave you going home with a wonderful workout and a smile on your face.