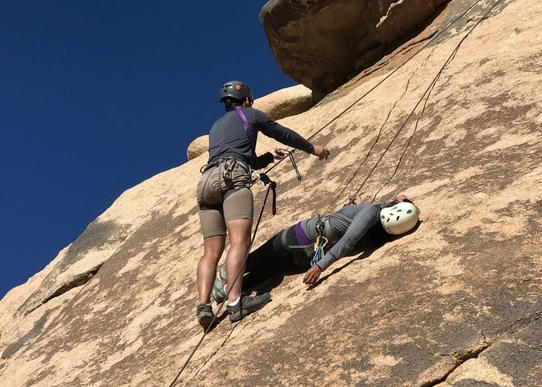 The climbing self-rescue course focuses on skills no climber should be without.  Learn how to get yourself, and your partner, out of tricky situations when professional help is unavailable.
Because the more you know, the safer you and others will be. Run "dummy" scenarios with your guide and other students, so you can already know what to do when a real situation arises. The skill you learn on the self-rescue course will come in handy when you least expect it. You'll be glad to be on top of your game!
Book a Climbing Self-Rescue Class in California, Joshua Tree, Los Angeles, Big Bear, Riverside, Apple Valley
5 Star Reviews ⭐⭐⭐⭐⭐
Rates: half-day $195/ea, full-day $295/ea, full-day private $395/ea.
PREREQUISITE: Prior roped-climbing experience.
---
Itinerary
how to escape belay
how to rescue and ascend to aid an injured or fallen climber using an auto-locking device (ie. Gri-Gri) as well as lowering the both of you to the ground
friction hitches for slings and cord
rope ascension
backing up rappels with an auto-block knot
lowering system with a re-directed auto-locking device
lowering system with a munter hitch backed-up with an auto-block knot
the tandem rappel system
basic 3 to 1 "Z" raising system with an auto-locking device
Inclusions
Lifetime Membership!
Rock climbing equipment. Feel free to bring your own, as practicing self rescue with your own equipment will better prepare you for real situations.
Climbing shoes
Harness
Helmet
Professional guide
Things to Bring
Sturdy walking or hiking shoes
Weather appropriate clothing
Enough water for 4-5 hours
Sun protection
Lunch/snack
Day Pack
Exclusions
Joshua Tree National Park entrance fee (only applicable to Joshua Tree location)
Gratuities (optional)
Duration: half-day, full-day, or full-day private
OPEN YEAR ROUND
Meeting Location Maps: Riverside | Los Angeles | Apple Valley | Joshua Tree | Big Bear
Learn rock climbing assisted rescue skills that may come in handy when professional help is not around. Run scenarios and hands-on practices that will better prepare you when tricky situations arise.
To maximize your experience, we are open year round and offer services for all levels – from complete novice to avid climbers. Outdoor rock climbing is our expertise. We are proud to operate with the highest standards of the industry and run our tours in Southern California, Los Angeles and world-class outdoor climbing destination – Joshua Tree National Park.