Touch and Go, Joshua Tree National Park – California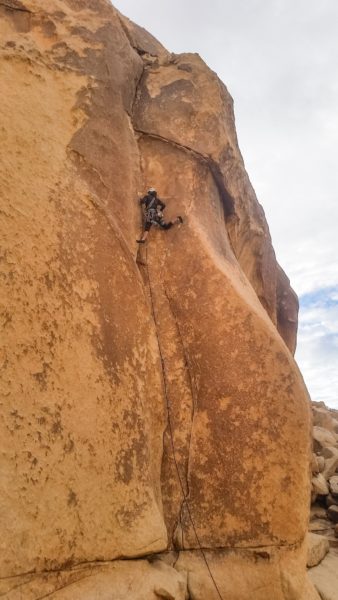 Olga leading Touch and Go, a fun classic at Joshua Tree National Park – California.
We asked her to give us some feedback or even beta on the route and she said, "The route is fun. There is too much chalk in places that don't serve well as holds, so a leader needs to focus on making the moves that feel natural, rather than following chalk marks. There is a combination of hand jams, stemming, drop knees, laybacks, face climbing and high steps – the combination of everything makes this climb a truly fun classic. I didn't use the crack on the right side very much, if at all but to stem. Route protects very well, making it safer than most leads in Joshua Tree . . ."
Touch and Go is a traditional route rated 5.9 wich can be done with a standard rack. Located on the Echo Cove Back Side and its first ascent was made by Matt Cox, Bobby Kessinger and Dan Ahlborn in 1976.
Photography by Chris Rodriguez