Rock Climbing for Father's Day and Other Gift Ideas
Father's Day is the perfect opportunity to bring out the best and most rugged hobbies your dad may have. Let's face it, some dads do start out doing rugged activities or sports in their young years, and move on to doing less risky things once they have children. Some dads love fly fishing, others motorcycle riding, and some are happy with just having the meatiest BBQ in the neighborhood.
Don't have any father's day gift ideas yet?
Have you entertained the idea of rock climbing for Father's Day? Once in awhile (because is a man's thing to do!), is a great to give your dad the gift of adrenaline, adventure and thrill.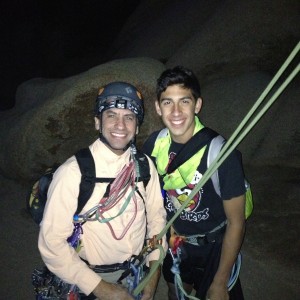 Let's break down some father's day gift ideas, starting with our own and adding some other favorites;
(1) RCED Gift Card – Rock Climb Every Day Gift cards are processed instantly, can be used for any services at any location and do not expire. Starting as little as $25 up to $500, is the perfect gift for every budget. Outdoor activity gift cards make awesome gifts for any occasion throughout the year!
(2) Fishing Pole – dads who love fishing will never turn down a new fishing pole, check out Bass Pro Shop!
(3) Home Depot Gift Card – if your dad is one of those people that loves to fix things or work on home improvements six out of seven days of the week, a home depot gift certificate hits the target on the spot.
(4) BBQ Utensils – do not get your dad this, if he already has a great set!
(5) House Slippers – yes, believe it or not, dads love house slippers… not the in between the toes ones!
(6) Backpack – if your dad loves hiking, climbing, or any other type of outdoor activity that requires for you to carry a few things and water, then do a little research and get your dad the best pack for its use.
(7) Picture frame (with a picture on it) – if your dad is not the picture taking fanatic, shop for a nice frame, have a nice family photo printed, and give your dad a special memory he can add to his wall art.
(8) HDTV – when it comes to dad, money is not object. If your dad's TV is too old, then go out of your way for that man who gave you life and just buy him a new TV.
(9) Electric Guitar – if you dad plays any instruments, get him that and add an amplifier to the mix.
(10) Dinner – Make dinner or take your dad out to dinner.
Father's Day happens every year!
So don't splurge on gifts every time. Do this at least once or twice in your lifetime. The rest of the years, just make sure you find something special your dad will love or you both will enjoy sharing. Father's Day is a day to remember that special man in our lives that put up with us since we were born and raised us to be who we are today. No matter what you decide to do, make sure to consider rock climbing for Father's Day, which you can do both for your dad or with your dad.